The New Look Twitter

Twitter has made a major redesign of its service that makes the interface simpler for users. The goal is to resolve complexity around concepts like the hashtag or the 'at' symbol.



Check, fly.twitter.com for details of the above changes.
Another major change for brands  is new brand pages.
See screenshot of @JetBlue below: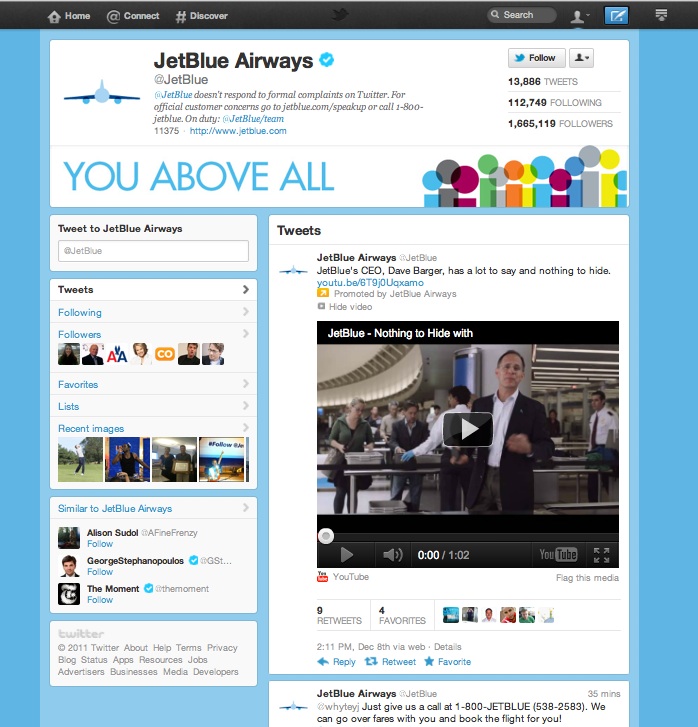 The two big changes are a new banner just below the profile information that stretches across the page and the ability to pin a tweet at the top of each brand's stream. This will give brands a more distinctive presence on Twitter.
Twitter is launching the new brand pages with 21 partners: @AmericanExpress,   @BestBuy,  @bing ,   @chevrolet,   @CocaCola,   @Dell , @DisneyPixar,  @generalelectric,   @Heineken,  @HP,  @intel,  @JetBlue,  @Kia,  @McDonalds,  @nikebasketball,  @NYSE_Euronext,   @GhostProtocol, @pepsi,   @Staples, and  @subwayfreshbuzz.
However, you will need to use the new version of Twitter to see the above Brand pages. Twitter will slowly roll out enhanced profile pages to a wider audience of brands in the coming months. To learn more go to fly.twitter.com/ads. To learn how to get the new version of Twitter, go to fly.twitter.com.
Related articles