Xminds Infotech Earns New Review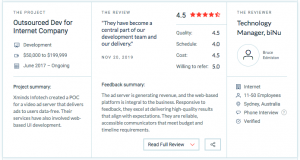 With some of the best experts in the industry and 14 years of experience, we know exactly what to do to solve your business problems.
       We deploy the best practices.
       We utilize the methodologies that we've proven work.
       And over time, we've tested which delivery model is best for your specific needs.
But we've also worked with hundreds of companies and countless individuals, catering to their specific business problems, and delivering the best customer service possible.
So, here at Xminds Infotech, we don't just understand IT best, we understand YOU best.
Recently, one of our partners chose to highlight our team's responsiveness while reviewing our team on Clutch. A B2B ratings and reviews platform, Clutch helps businesses find a partner for a project they're working on.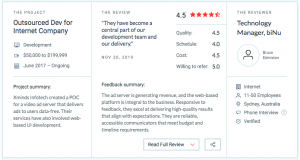 During this collaboration, we partnered with an internet company to create a proof of concept for a video ad server. The platform itself delivers video ads to Android apps without using data using a software development kit (SDK) that we developed.
Then, we focused on creating a UI for people to register their app on. As a result, they're able to access tools that enable their apps to function without using data.
The project itself was very successful—we developed reliable and high-quality software that continues to support their platform.
We believe that the collaboration's success can be attributed to the communication between our two teams throughout the process. And so do our partners:
"One thing I am always impressed with is that they are always available. They are very quick to respond. If there's an issue that needs to be resolved quickly, they will be on the case."
–Bruce Edminston
Technology Manager, biNu
With a near-perfect rating, we stand out as a trusted partner in web and mobile app development, and QA services. Since joining Clutch, seven of our partners have left positive reviews of our services, giving us an average rating of 4.6 Stars out of five.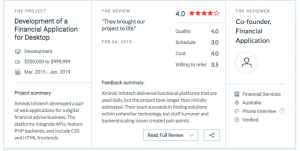 To continue your research on top development companies, check out a shortlist of top companies on Clutch's sister site, The Manifest. You can also compare our work to other agencies on Visual Objects, the portfolio-based guide that recognizes top providers that always deliver what their clients need.
To get started on your next project, you can shoot us an email, reach out to us online, or find our contact information on our website.