Mobile App Usage increases while Mobile browsing decreases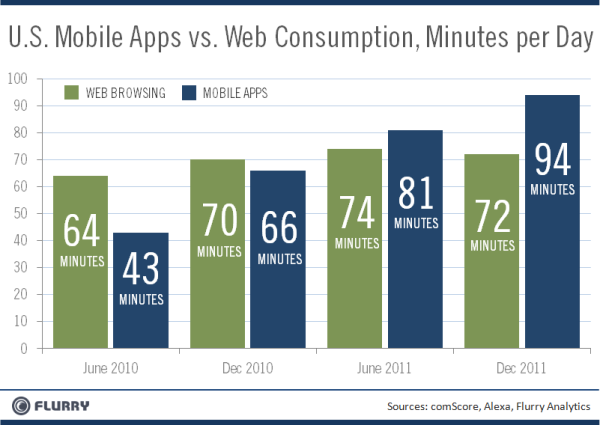 Mobile analytics firm, Flurry says in a new study that, the usage of mobile apps has skyrocketed to 94 minutes per day, while Mobile browsing dropped to 72 minutes per day. If you remember, in June 2011, Flurry had reported that users were spending 81 minutes per day in mobile apps versus 74 minutes on the web.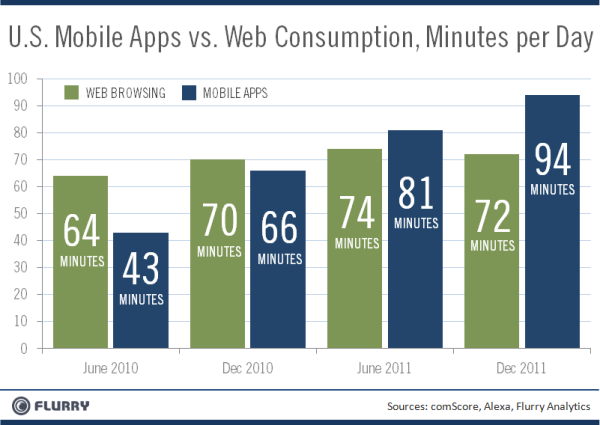 Mobile users are increasingly using apps rather than browsing the Web as the sales of Smartphones skyrocket. For the study, Flurry tracked anonymous sessions across more than 140,000 applications running Flurry analytics and compared it to mobile web data usage from ComScore and Alexa.
This shift in activity from traditional Web browsers to mobile apps is driven primarily by changing consumer habits related to Facebook. Rather than accessing Facebook through a standard browser, users are now accessing the site through mobile apps. Games (49 %) and social networking apps (30 %) accounted for almost 80 % of time spent in mobile applications, according to Flurry. However, the decrease in Mobile web usage, could be evidence of consumers' growing preference for rich, native application experiences.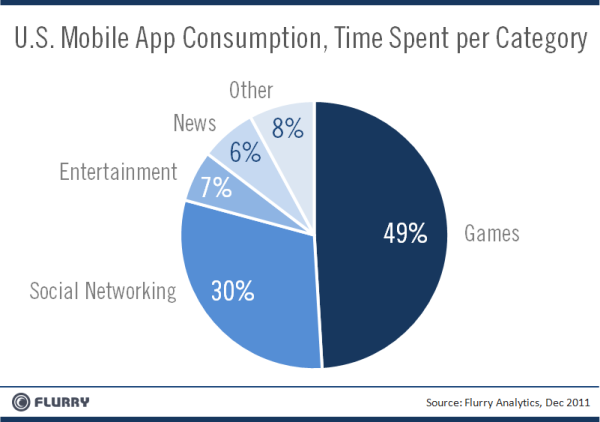 Flurry, said "Facebook and Google are already locked in a battle for the online consumer, with Facebook having steadily taken share from the search engine giant over the last several years. Recently, as Google countered with its socially-oriented Google Plus, Circles and Hangouts services, Facebook added features such as news feeds to further lock in consumers to its service by obviating the need to discover content through search".
Flurry further estimates that the cumulative number of iOS and Android devices activated will surge past 1 billion. It is estimated that, over 800 million PCs were sold between 1981 and 2000, making the rate of iOS and Android smart device adoption more than 4 times faster than that of PCs.
However, Flurry reports that the growth of mobile app usage appears to be slowing. Between December 2010 and June 2011, the time spent in mobile applications grew more than 23 %, but from June 2011 to December 2011 time spent in apps has grown 15 %. While the growth in time spent on mobile apps is slowing, users are engaged in more sessions, visiting apps more frequently than in the past.