Now, never Forget your Friend's Birthday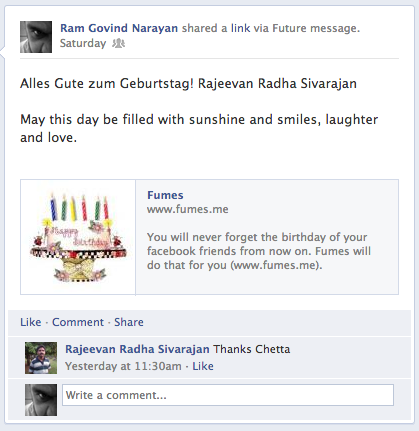 If you are one of those who keep forgetting your friend's birthdays, then you need to take a little help from Fumes. It is also a fact that the inability of people to remember their friend's birthday continues to be a major cause of irritation in friendships.
Fumes is a free service which stores your email, and delivers to the recipient at the requested time & date in the future. Now, Fumes has added another feather to it cap – It can remind you of your Friend's Birthday if you have an account with Facebook. You can subscribe for Fumes's Birthday reminder service for free and get automated reminder emails for all your friend's birthdays.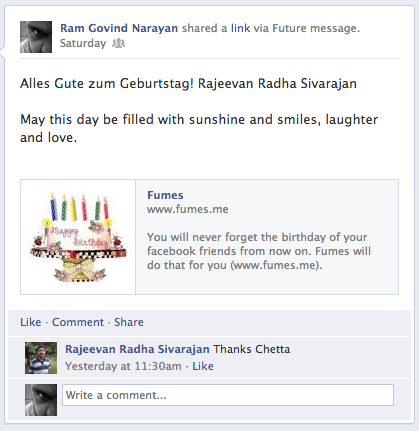 When somebody logs to Fumes using their Facebook account, an option of selecting your friend's birthday will appear. If you wish to get reminded of your friends' birthday, then you can choose that option. If they give the yes option, their Birthdays will be stored in Fumes. Whenever, these Birthdays happen you will get a reminder from Fumes. Set it, so you do not forget it.
The above feature of Fumes is a simple way of remembering friend's birthdays. The original idea for the website was simple, remind people of various events by getting a reminder mail from Fumes. We received such a positive feedback that we began to add new features to Fumes. The above option of getting a reminder of your friend's Birthday happened due to this experiment.
The good thing about Fumes is that it keeps track of as many friend's birthdays as you like. At Fumes, we are committed to providing a cool service which is a true benefit to our users. We listen to and respond to user's feedback and most of the features of Fumes have been made as a direct result of this interaction.
Related articles